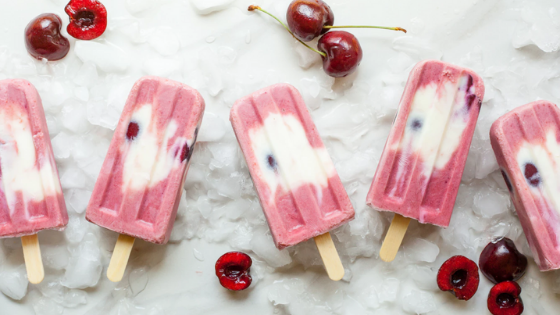 Summertime is no time to turn on the oven unless absolutely necessary. That's why we hope our Savannah Midtown residents find these heat-free desserts delightful.
Peachy Ice Pops
Ice-cold desserts are a must during the dog days of summer. With a little ingenuity and some yogurt, these ice pops can be delicious, nutritious and enjoyable for the entire family.
Ingredients
1 cup and 2 tablespoons of regular vanilla yogurt
¼ teaspoon of almond extract
1 ¼ cup of frozen raspberries
1 ¼ cup of peeled peaches cubed
Popsicle molds
Popsicle sticks
Mix the yogurt and almond extract in a bowl. Then, puree the raspberries in a blender and put in a separate bowl. Rinse out the blender thoroughly and do the same with the peaches. Pour a layer of raspberry puree into the popsicle molds followed by a peach layer, yogurt layer, and so on until filled. Insert the popsicle sticks and freeze.
Mint Grasshopper Treats
The combination of chocolate and mint is a classic that runs through ice cream, candy bars, and many other treats. This iconic flavor makes a wonderful grab-and-go dessert for children or a sweet to accompany your morning coffee.
Ingredients
½ cup of whole milk
3 cups of small marshmallows
1 ¾ cups plus 2 tablespoons of heavy cream
3 tablespoons of unsalted butter sliced
6 tablespoons of unsalted butter melted
2 teaspoons of vanilla extract
3 teaspoons of peppermint extract
34 chocolate Nabisco Famous Wafers
6 ounces of bittersweet chocolate chopped
Green food coloring (optional)
Microwave the milk in a bowl until hot. Stir in 2 tablespoons of butter and marshmallows. Microwave longer if needed to melt the ingredients. Add 2 tablespoons of heavy cream, vanilla, and peppermint extract. You can infuse the food coloring now. Cool on the counter for 1 hour.
In a blender, turn the wafers into crumbs and add 6 tablespoons of melted butter. Press into the bottom of a 9-inch baking pan lined with parchment paper to form a crust. Use an electric mixer to beat 1 cup of heavy cream into the marshmallow mixture. Pour over the crust and refrigerate for 30 minutes.
Pour remaining heavy cream and chocolate into a microwavable bowl. Heat until chocolate melts, taking out to stir as necessary. Evenly portion the mixture over the filling and refrigerate for 1 hour.
We hope our Savannah Midtown community members enjoy these dessert ideas. If you or a friend would like more information about our Atlanta apartments, call us today!