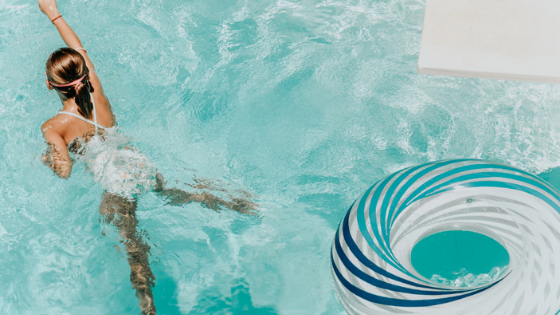 Nothing says summertime more than jumping into a refreshing pool. Take a look at the following these 2 reasons to exercise in the pool!
Weight Loss
If you're looking to lose weight, then there are various pool exercises that can make dropping those pounds easy. From swimming laps to stretching and doing other various forms of activity in the water, you can do wonders for your cardiovascular health. If you're not used to exercising in the pool, we recommend researching common pool exercises and progressing your workout routine over time. Other benefits include putting less strain and pressure on your joints and muscles!
Provides Benefits From the Sun
Not only does exercising in the pool mean more benefits for losing weight and improving your cardiovascular health, but it also provides a great way to experience that much-needed sunlight. When sunlight hits our skin, it triggers the production of vitamin D in our bodies, which can help lower high blood pressure, sooth muscles, improve brain function, and protect against inflammation. Even with these benefits, always remember to put on your suncreen!
Whether you find a public pool or lake, exercising in the water provides many amazing benefits. If you're looking for Atlanta, GA apartments that are close to water access, then Savannah Midtown is the apartment complex for you. Schedule a showing with us today to see our exciting floor plans!