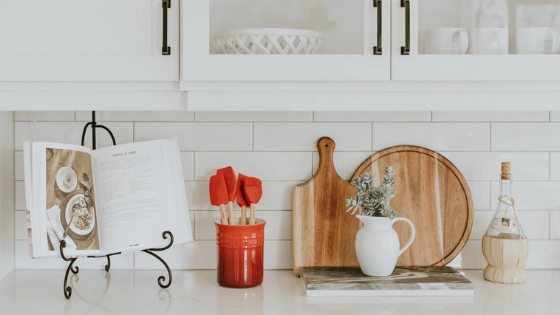 Check out our ultimate list of the top 7 essential cooking tools all great cooks must have in their arsenal!
Top Cooking Tool Must-Haves
Quality Knives
In the kitchen, knives are your best friend. We recommend investing in a high-quality set of knives that you will be able to keep for many years to come. Stainless steel plated carbon is a good place to start, or you can try something new, like a ceramic knife set.
Silicone Spatulas
If you plan on doing a lot of baking, you'll need a good set of silicone spatulas. Look for those that are created in just one piece of silicone. In other words, don't choose those that have a wooden or metal handle with a silicone end. These tend to build up food debris and gunk at the neck over time and may detach with continuous washings.
A Whisk
A whisk is absolutely necessary for thoroughly mixing batters, sauces, gravies, dressings, and more!
A Thermometer
If are a meat lover, a thermometer is essential so that you can cook your meats to the perfect temperature — not too overdone for reasons of taste and flavor and not too underdone for safety reasons.
A Large Colander
Colanders come in all different shapes and sizes, but a classic large colander made of stainless steel or plastic is all you need for the easy washing of fruits and vegetables.
A Metal Spatula
You will be using a metal spatula often, everything from hashbrowns and eggs to burgers and salmon fillets.
Wooden cutting boards
Cutting boards can be made out of many materials, but wood is always the best. Be sure to oil them often for optimal performance.
Looking for a new apartment in Atlanta to call your own? Imagine a brand-new kitchen where you can set up all of your cooking tools and appliances just the way you want them.
We have Atlanta, GA apartments available right now. Simply contact our office at your convenience to find out what floor plans are available.